Panasonic

Lumix

GX1

,

Stylish

Camera

High

Performance -
Panasonic

introduces the

Lumix

GX1

,

a camera

that is reported as

the successor

of

its

GF

series

.

Lumix

GX1

is

tangible

stylish

camera

that is claimed to

have the ability

to capture

the focus of

the fastest

AF

among

other

compact

system

cameras

.
16
-megapixel
resolution camera
is equipped
with
the Live MOS sensor
and
a
host of features including
automatic
shooting
mode and
the touch screen to
control the
autofocus
and
full manual control
.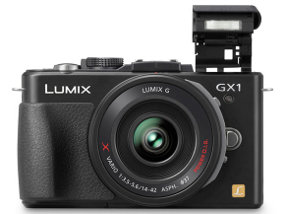 Panasonic introduces the Lumix GX1, a camera that is reported as the successor of its GF series. Lumix GX1 is tangible stylish camera that is claimed to have the ability to capture the focus of the fastest AF among other compact system cameras.
16-megapixel resolution camera is equipped with the Live MOS sensor and a host of features including automatic shooting mode and the touch screen to control the autofocus and full manual control.
Yes, the camera is kind of micro four-third focus is claimed to have the highest rate in the presence of AF (Auto Focus) 0:09 speeds that had. Previously, Olympus claims this title through the Olympus PEN E-P3.
The number of frames recorded GX1 itself is quite astonishing. GX1 has the fastest burst shooting up to 20 fps.
All G-series camera itself is compatible with Panasonic's lens micro four-third, including X Zoom lens that has just launched earlier this year. For the image processor, Venus Engine wears Lumix GX1 where its sensitivity reaches ISO 12800. He also comes with a flash that has been integrated.
Panasonic do not forget to use touch-screen technology for LCDs in this product, a feature that is now popular in the compact camera range. He is also capable of recording full HD video with AVCHD format with stereo sound.
What price are priced Panasonic for GX1? It is rather expensive. For his body alone, consumers have to spend £ 499.99. While GX 1 with 14-42 mm lens kit comes with a price of £ 599.99 and will be available in mid-December this year.
High quality, creative photography made simple
Panasonic's range of LUMIX G micro system cameras provide the perfect option if you're looking to improve the quality of your photography without having to use a large, complicated and heavy DSLR camera. The LUMIX GX1's 16.0-megapixel image sensor is far larger than those found in point-and shoot cameras, while the intuitive automatic shooting modes, including touch Auto Focus (AF), and the full range of advanced features mean you can easily capture your world as you see it.
Speed to match your busy lifestyle
For exceptional photography on the go, speed is of the essence. A high-speed and extremely precise AF lets you capture all moments you want to remember without missing a thing. At 0.09 seconds, the GX1 has the fastest AF speed among Compact System Cameras , while the Burst Shooting speed of up to 20 Frames per Second means you can get the perfect shot of even a fast-moving object.

Designed to give you more
Barnaby Sykes, Product Manager, for LUMIX G, Panasonic UK comments: "High quality photography is no longer limited to the professionals. With our LUMIX G range, we were the first in the segment of Compact System Cameras, revolutionising the market with small, lightweight and stylish cameras that enable the incredible shots that are normally reserved for heavier and larger DSLRs. The LUMIX GX1 is the next step in this process. Alongside our wide range of LUMIX G lenses for every occasion, the LUMIX GX1 puts ultra-stylish photography in the palm of your hand."
The perfect fit
Panasonic's LUMIX G range is available with the world's widest line-up of dedicated Compact System Camera lenses to choose from with 14 interchangeable lenses, making sure that with the LUMIX GX1 you have the set-up to capture every moment. These include Panasonic's new pancake lens sized 14-42mm X Zoom lens, part of it new range of ultra-compact electronic power zoom 'X' lenses, which makes the perfect fit for high quality photography in your pocket.
Key features
Exceptional image quality: With a 16.0-megapixel Live MOS Four Thirds Sensor and the high-end image processor Venus Engine, the LUMIX GX1 provides the exceptional image quality and low-light sensitivity at up to ISO 12800.
Stylish, ultra-compact and lightweight: With a unique luxurious design, the LUMIX GX1 is designed to become part of your everyday style, whilst being lightweight and small enough to your companion wherever you go.
Assisting your creativity: Behind the beautifully classic chassis, the LUMIX GX1 hides the simple, intuitive controls and advanced functions to help you get more from your photography. The camera puts you in control, allowing you to assign your own settings to the two external buttons and two menus in the software tab for quick and easy use. With pinpoint AF in just 0.09 seconds, the GX1 lets you take perfect photography on the go with ease. AF modes include multiple-area AF, Face Detection, and AF Tracking, which allows the LUMIX GX1 to lock onto any subject and keep it in focus even if it moves. Meanwhile the integrated flash will let you take the perfect shots, whatever the light level. You can even take 3D photos with the special digital interchangeable lens that makes 3D photo shooting possible.
The control to help make the most of every shot: The LUMIX GX1's intuitive touch screen lets you have full control over your photos. Focus and defocus can be set immediately to the subject or to the background, with just one touch of the large LCD screen, while Panasonic's Intelligent Auto Plus (iA+) functions let you take professional-level shots, even if you're a beginner or need to shoot at a moment's notice.
Capture your memories with Full HD Movie capability: The quality advances of the LUMIX GX1 are not restricted to still photos. The 16.0-megapixel sensor means the camera can record in Full HD AVCHD 1920 x 1080, 50i, with stereo sound, producing professional movie quality with minimal noise. With long recording times, instant access controls, an advanced AF system and LUMIX G lenses specifically designed for movie shooting, the LUMIX GX1 will allow you to capture the perfect movies with ease. The AVCHD format also provides the best in both compression efficiency and compatibility with AV equipment for viewing.