Windows 7 Review
-
Windows 7 is hardly flawless. Some features feel unfinished; others won't realize their potential without heavy lifting by third parties. And some long-standing annoyances remain intact. But overall, the final shipping version I test-drove appears to be the worthy successor to Windows XP that Vista never was.
Microsoft's release of Windows 7 also roughly coincides with Apple's release of its new Snow Leopard; for a visual comparison of the two operating systems, see our slideshow "
Snow Leopard Versus Windows 7
." Of course, an OS can't be a winner if it turns a zippy PC into a slowpoke or causes installation nightmares. Consult "
Windows 7 Performance Tests
" for Windows 7 performance test results, and "
How to Upgrade to Windows 7
" for hands-on advice on the best way to install it. Read on here for an in-depth look at how Microsoft has changed its OS--mostly for the better--in Windows 7.
Interface: The New Taskmaster
The Windows experience occurs mainly in its Taskbar--especially in the Start menu and System Tray. Vista gave the Start menu a welcome redesign; in Windows 7, the Taskbar and the System Tray get a thorough makeover.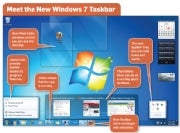 The new Taskbar replaces the old small icons and text labels for running apps with larger, unlabeled icons. If you can keep the icons straight, the new design painlessly reduces Taskbar clutter. If you don't like it, you can shrink the icons and/or bring the labels back.
In the past, you could get one-click access to programs by dragging their icons to the Quick Launch toolbar. Windows 7 eliminates Quick Launch and folds its capabilities into the Taskbar. Drag an app's icon from the Start menu or desktop to the Taskbar, and Windows will pin it there, so you can launch the program without rummaging around in the Start menu. You can also organize icons in the Taskbar by moving them to new positions.
To indicate that a particular application on the Taskbar is running, Windows draws a subtle box around its icon--so subtle, in fact, that figuring out whether the app is running can take a moment, especially if its icon sits between two icons for running apps.