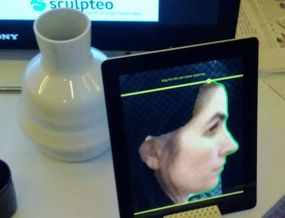 5 Innovations Unique Sophisticated in Party Gadget World - Consumer Electronics Show (CES) 2012 has ended, but a row of gadgets ciamik that enliven the event seemed to be endless.
Like the five innovations that launched this Tecca, although still somewhat unique but sophisticated.
1.
3D printing Sculpteo
Ever imagine the curve of your face is transferred in a medium vase of flowers?
Yes this is trying to do Sculpteo 3D printing applications.
You can take a photo of your face, then the curve of your face can be sent to a company based in France is to be poured in the form of a vase or mug.

Unique is not it?
For those interested in a set price for a vase is $ 90 while a small mug $ 40.

But if you want to try first please sambangi Sculpteo iTunes to get applications for your iPhone or iPad.
Snap your face, upload Sculpteo cloud-based virtual 3D printing designer, edit some parts that you want, and voila ...
just wait for the results.

2.
4moms origami stroller
Baby stroller can also be advanced in stage CES 2012.
One of them is the impetus for this baby.
The name origami was pinned in the stroller because this device can be folded so easily.
Simply press one button and she was able to carry into the vehicle.

But its ability does not stop there, origami stroller is also equipped with a built in generator as a power source.
So that could be used to charging mobile phones and gadgets you are carrying a baby in the middle of taking a walk.

Built-in generator can also be recharged when the stroller is run.
Want to have it?
Prepare to spend about USD 850 then.

3.
Karotz social media reader
Cute bunny-shaped robot is a loyal friend to those who can not get out to social networks.
Cause behind its adorable, he is able to connect to the Internet, especially Facebook and Twitter.

Robot for $ 200 is also equipped with cameras to bernarsis ria and can be uploaded directly on the user's favorite networking site.

4.
Withings wifi baby scale
This device functions the same as true Withings WiFi Body Scale to find out how much you weigh and post them on Twitter or other social networks.
So hopefully, with the possibility of many people - or the whole world know - then the user can be more motivated to lose weight.

Well, baby scale Withings wifi also works roughly like that.
It's just that is intended for babies.
In addition, the device also added a feature to be connected with the iPad, iPhone, iPod Touch with App WiScale application availability.

5.
HzO gadget waterproofing
Yes, as the name implies, this gadget is the patron of a spray of water that can damage the circuit components.
When demonstrated, these solutions successfully to impress because the application can still run even though the music was soaked in water.

No doubt the price is quite expensive, ie $ 1,000 for tablet PCs and $ 300 for the phone.
The installation was fairly complicated.
For when purchased can not be directly attached users.

No wonder, because HzO's waterblock is made of nanoscale a thin wrapper that protects the circuit components of the gadget.
Therefore, the installation must be run during the manufacturing process.