Android, IOS, Symbian, BlackBerry: Who So Soft Target by a virus?
- In addition to the presence of new technologies, the year 2012 was also considered to bea lot of emerging cyber crime. Let's look at the predictions of any threat. Starting from the mobile realm, who would be the hotbed favorite among Android, IOS, Symbian, BlackBerry, and Windows Mobile?

According to security company Eset, what will happen in 2012 will not be separated from the sequence of events and trends in 2011 then. In general, the spread of malware in2012, also triggered escalation of user factors that will contribute to the spread of threats.

Growth rates of use of mobile devices or smartphones in particular communications device will be more significant in 2012 so that more opportunities are not just limited tomalicious code.

"In this context, all forms of threats, plus the development of new malicious code targetingmobile communications devices are expected to increase significantly and become a problem for users," explained Eset.
- Note the picture below showing the travel and the development of variants of malware that attack the Android during the last 16 months and will continue in 2012.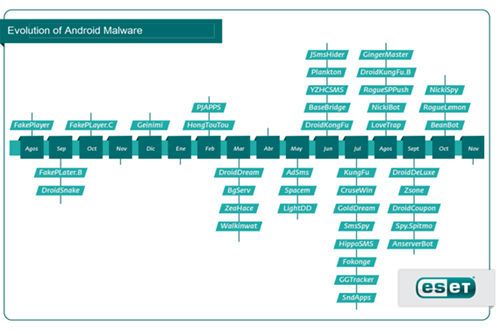 It should be noted, that the timeline was started in August 2010 when the initial appearance of malware detected by Eset ThreatSense and identified as FakePlayer.
FakePlayer is the first Trojan to attack Android and attacks continued until well into October 2011. If observed, 65% of all threat is concentrated in the last five months. "So that we canuse this condition as a warning to us to be more careful in the year 2012," he continued.